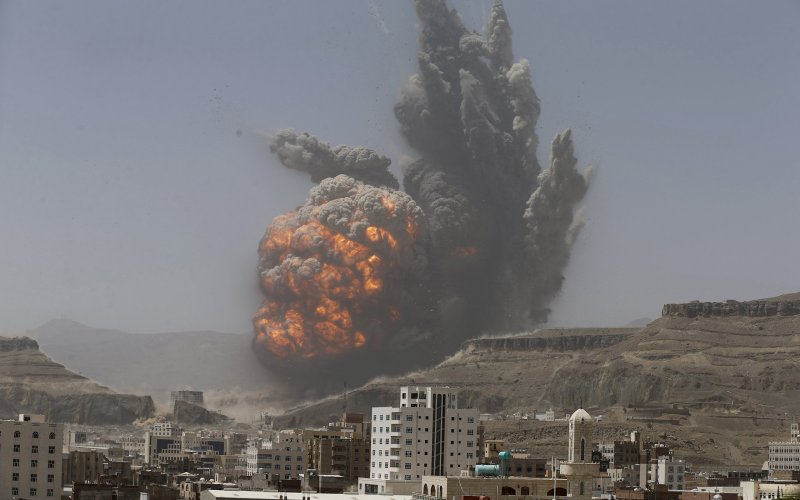 Yemen airstrikes: 'there are no sirens, you just hear the boom'
When the bombs started falling on Sana'a on Wednesday, Hisham al-Omeisy rushed to fetch his children from school. Down in a basement lined with shatterproof glass, the children and their classmates were singing along with teachers hoping to take their minds off what was happening outside.
"Of course it makes you feel helpless and powerless," said Omeisy, a political analyst. "The most terrifying moment is when a jet is circling around, you go to the basement and basically hug your kids and pray. You know you're completely helpless if a bomb should drop on your home – there is no way you could protect them. The building will just collapse on your head. At that kind of desperate moment, you curse everything. There are no safe havens."
The findings of a leaked United Nations report on the Saudi-led bombing campaign in Yemen – that there have been "widespread and systematic" attacks on civilian targets, in violation of international humanitarian law – came as no surprise to Omeisy.
For 10 months now, a coalition led by Saudi Arabia has been bombing Yemen, hoping to force the acquiescence of the Houthis, rebels from the north with ties to Iran who overthrew the Riyadh-backed government. But instead the war, pitting a militia and its ally, the former president, Ali Abdullah Saleh, against Saudi Arabia, engaged in a high-stakes regional confrontation with Tehran, has brought unparalleled misery and destruction to Yemen, which was already the Arab world's poorest country.
An estimated 8,000 people have been killed and countless others wounded, and 80% of the country's population are in need of humanitarian aid, according to UN officials. People on the ground say the aerial campaign remains relentless as a ground war between the Houthis and their allies against local resistance fighters grows more desperate. "The fact is for the past 10 months a lot of people have been complaining that the airstrikes are not exclusively on military targets but have been hitting homes, residential areas, but unfortunately the whole world kept ignoring it," said Omeisy.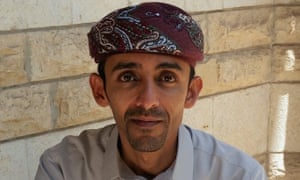 For residents in Sana'a, where there are no bomb shelters, the only refuge is the basement. "There are no sirens, you just hear the boom, or the jets start circling before bombing, and that's your cue to go down to the basement or the lower levels," he said. The air campaign has altered almost every facet of daily life. There is little traffic on the streets, save to secure some necessities. Residents say the bombings do not have a regular routine – they continued during the holy month of Ramadan, the Eid feast and even during prayer times.
The sound of jets is so common that sometimes people don't bother to run downstairs and hide, and instead crowdsource on social media the locations of the latest airstrikes, trying to guess what will be hit next. "As a civilian, the main issue you are facing every day is that you can die at any moment," said Radhya Mutwakel, the head of Mowatana, a Sana'a-based human rights watchdog. "Nothing is protecting you from danger from the ground or the sky."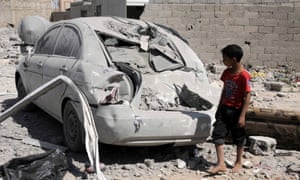 Mutwakel's organisation has documented 44 incidents in which airstrikes killed a total of 615 civilians, many of whom were not living near military zones. Rockets have landed on residential homes, presumably targeting top Houthi officials, though they are often nowhere to be found.
Mutwakel said the targeting parameters appeared to have been relaxed in the course of the war, but she said the Houthis were also guilty of human rights violations, having launched what she described as an unprecedented campaign of arbitrary arrests, detentions and forced disappearances against political opponents.
In Taiz, Yemen's third city, which is besieged by Houthis, limiting the entry of food and medicine, they have indiscriminately shelled civilian neighbourhoods, Mutwakel said. "It's collective punishment of civilians." Sadek, who lives in Taiz, described residents being abused by the Houthis for suspected collaboration with the coalition's allies on the ground, and limits on how much food individuals could bring into the town, which is anyway extremely difficult to leave.
"The prices of staples have tripled and in some cases increased tenfold," he said. "Most of the people left are poor, and most of the poor people cannot buy food."
Attacks on medical facilities have increased. Three clinics run by the charity Médecins Sans Frontières have been hit in as many months. "MSF is deeply concerned that the conflict in Yemen is being fought with total disregard for the rules of war, with dire humanitarian consequences," Vickie Hawkins, the executive director of MSF UK, said in a statement. She described the attacks on medical facilities as part of a "broader assault on the Yemeni population by all parties to this war".
Hawkins added: "We are urging the UK government to support investigations of any possible breaches of international humanitarian law. The UK government [is] supporting a war without limits and must reiterate its commitment to international humanitarian law." Yemenis say the war has torn the country apart and that it may never be made whole again, much like other disintegrating nation states in the Middle East.
Parents now proudly hang pictures of their teenage children fighting on the frontlines on either side. Mutwakel said many children were now prisoners of war. "The truth is the social fabric of the whole country has been shredded," said Omeisy, the Sana'a-based analyst. "The grievances have been deepened, it's going to take decades to repair that. There is a lot of hate now."