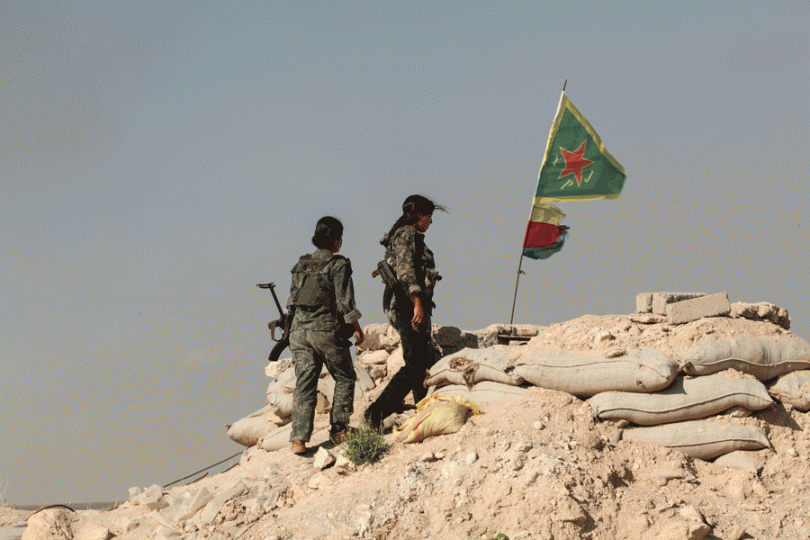 The Syrian Civil War has wrought a Terrible Toll on Women
Stoning, lashings, beatings and enforced disappearances of women have become increasingly frequent in the war-torn country — and not just at the hands of the brutal Islamic State, according to a new Syrian Network for Human Rights report.
The report documents cases of kidnapping of women as forcible recruits by Kurdish Self- Management Forces are even as they've been lauded in the West for their female fighting force.
"We are working on the documentation of all forms of violence against women—not exclusively the regime," Sabah Al Hallak, a Syrian feminist leader and consultant for the SNHR report.
"While the government has committed the most violations and violence, we unfortunately have other armed actors who exert violence on women—namely murder, rape, and kidnapping," said Al Hallak, a well-known Syrian feminist leader who now works on refugee women's issues from Beirut.
SNHR has documented the killing of 18,917 women by government forces since it began collecting statistics in March 2011. According to SNHR's archives, more than 7029 women are still arrested including 6711 adult females and 318 adolescent females.
More than a thousand women are categorized under enforced disappearance.
While the Syrian government denies accusations of extrajudicial kidnapping, survivors' testimonies confirm that these women are inside detention centers run by state security.
There are indications that the Assad regime has targeted women involved in providing social services to Syrians who might sympathize with rebel forces.
Last month government forces shelled the Child and Maternity Care Office in Al Rastan 16 kilometers north Homs. Among the dead was 45 year old Mariam Al Dali who set up the women's health network in the city.
Dania Yacoub, a 37-year-old Damascus resident who led a volunteer-run childcare center before she immigrated to Hamburg, Germany, descended into a nightmare after she ran afoul of government troops.
"I was stopped at a checkpoint. They took me and my car which had toys inside for the children," said Yacoub, whose testimony is included the report.
The report notes Syrian society's stigmatization of women detainees who are often sexually abused in the prison and SNHR recorded many cases where husbands seek divorce after their wives are released.
Regime directed targeting has resulted in large civilian casualties in rebel-held areas since the Russian Air Force joined the fight in Syria last month.
According to SNHR, "Russian forces killed 7 2 women, including 38 adults and 34 adolescents, in one month which is a strong indicator that the Russian forces are deliberately targeting civilians."
Like D'AASH, The Nusra Front has enforced stringent and discriminatory regulations on women and girls in the territory it controls and also has torn children away from their mothers to draft them as soldiers.
Nusra has killed 52 adult women and 15 adolescent girls in field executions on charges such as "insulting the name of God".
SNHR says D'AASH only trails the regime in the number women killed in its operations.
"Indiscriminate bombing, clashes, and field-executions by ISIL caused the death of not less than 233 women," according to the report which details scores of abuses including one woman accused sorcery who was decapitated and 7 women stoned to death on adultery charges.
Testimony has also been gathered alleging that women detainees are often tortured and sometimes forced to marry ISIL members if they "fail" D'AASH's religious courses.
Factions that often receive positive media attention have also oppressed women.
Kurdish forces, for example, have kidnapped and impressed women to serve as fighters, the group found. "Women in the Kurdish areas are in danger of pursuit, arrest, and forced to the training camps," the report said
SNHR has documented systematic kidnapping of by the Kurdish militia of 69 women, including 34 female children under the age of 18 with the aim of forcibly recruiting women to their army.
The Network has called on International Criminal Court to examine its findings in order to bring charges someday against belligerents in the civil war.
More immediately, the group is asking governments to give women refuges priority for humanitarian assistance and in considering asylum requests.
"Obviously the crisis of Syrian women is part overall disintegration of our state and society," said SNHR spokesman and psychologist Wael Aleji.
"We can't address the catastrophe for Syria's women without solving the overall emergency. Every delay in solving the Syrian crisis will radically complicate the situation for our women."